How to safely fire a handgun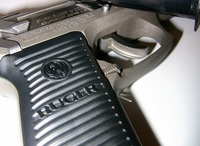 In the UK, access to live firing pistols is extremely restricted, unless you are a member of a section 7.3 club or have a variation for a long barreled pistol or black powder pistol on your firearms certificate you won't be able to use one in the UK. Air pistols are available to most people however and are great fun! There are a huge variety of guns available and some are extremely realistic and function in a similar way to the real thing.
When firing all guns you need to remember that the firearm you are using is extremely dangerous and should always be handled with extreme care and caution. First up, you should always remind yourself of these four extremely important safety rules, when handling a handgun.
Imagine it's loaded
1. You should always handle every single different variety of firearm as if it were loaded. There are no exceptions. Even if you are 100% sure that the gun is unloaded, you should still follow this rule at all times. It simply breeds good habits.
2. You should always ensure that you are pointing your handgun in a safe direction. When holding the gun, only point it somewhere, where if you were to accidentally fire it, it would cause the minimum amount of damage and no physical injury. NEVER point the gun at someone, even if it is unloaded. If you point a gun at someone at a club or paid shoot, even by accident, you'll probably get banned. Clubs can also inform the police if they don't think someone is suitable to possess a firearms certificate
3. Your trigger finger should be kept off the trigger and outside the trigger guard until you make the conscious and deliberate decision to fire the weapon.
4. Before you fire your weapon, you should always be 100% sure of your target, backstop and what lies beyond. And, whilst this isn't usually a concern if you're at a professional firing range, you should also always be aware of what is in your line of fire. This is even more important if you are on private land shooting with friends, where the situation isn't as controlled.
So, now that you're aware of the four main safety tips to handling a handgun, we can now move on to the actual operating and firing of the weapon.
How to hold the pistol
If you are a beginner then you should always grip your handgun with two hands. To do this you should use your gun hand (your right hand if you are right handed or your left hand if you are left handed) to grip the gun high up on the back strap. This will give you more leverage against the weapon, to help reduce recoil once it has been fired.
You should then place your support hand firmly against the exposed portion of the grip that is left uncovered by your gun hand. All four of the fingers on your support hand should be below the trigger guard with your index finger pressed up against the bottom of it. Your support hand should also be placed as high up the grip as possible, with your thumb pointing forward.
Also, this isn't grip-related, but once you have gripped the gun you should then stand in the extended shooting position. This involves standing with the gun stretched out in front of you with your arms almost straight, and your feet slightly wider than shoulder width apart.
How to aim a handgun accurately
First up you will need to work out which of your eyes is the dominant one. This is important as you should always aim with this eye. To work out which eye is the best for the job perform a quick eye test. You should form a one inch circle with your thumb and index finger. Then, hold this circle at arm's length and look at a distant object through the circle. You should then keep both eyes open and bring the circle towards your face slowly. Your hand will simply naturally gravitate towards one eye. Whichever eye you gravitate towards, is your dominant eye.
Phew, now we have that sorted, you can align your sights. Handguns will almost always have a front sight and a rear sight notch. You should aim the gun at your target and then align the top of the front sight so that it lines up with the top of the rear sight. As in the diagram below, when you have aligned the sight, there should be an equal amount of space on both sides of the front sight.
You are then required to set your sight picture. This is the way your sights look in relation to the target at which you are aiming your handgun. You are not able to focus on your front sight, your rear sight, and your target. So, in order to aim accurately, you need to get the target within your sight and then focus on the front and rear sight. These should appear sharp and clear, whilst your target will appear to be a bit blurry, as is visible in the below diagram. It is often advised that if your target is further away, you should make sure that you have a clear focus on the front sight.
Pulling the trigger
Now we are getting to the action end of the guide, the bit where you "pull the trigger". Well, that is a common misconception. In order to fire a gun properly, you won't want to pull the trigger, you will want to press it down in a controlled fashion so that you aren't moving the barrel and disrupting your sights. In order to ensure that you are "pulling the trigger" correctly, follow the steps below.
1. Press it
As mentioned above, you should always ensure that you're pressing the trigger, as opposed to pulling it. You could also call it "squeezing" the trigger, as this is probably the best way to describe the action. You should apply constant and increasing pressure on the trigger until the gun has fired.
2. Take the slack
You should take the slack out of the trigger. Do this by squeezing it to the point where you begin to feel some resistance.
3. Shoot and follow through.
Once you have taken the shot you should keep the trigger depressed and alow the gun to settle back onto the target, then release the trigger and prepair for your next shot.
That brings us nicely to the end of this informative piece on how to fire a handgun. If you are a firearms license holder and are interested in joining a section 7.3 club a lot of useful information can be found here.
Articles