Gun Shop Staying Open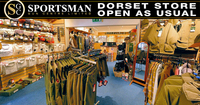 Sportsmans retains location despite shooting ground closure. As some of the shooting public may know, Southern Counties Leisure recently closed their Dorset based shooting ground for practice and competition shooting.
The Sportsman Gun Centre would like all customers past and present to know they will be maintaining their store with no plan of closure. With an ethos built on valuing their customers and providing an excellent level of service, the Sportsman will maintain its operations at the Southern Counties site.
Their staff will be on hand Tuesday – Sunday (as usual) to provide quality new and used firearms, accessories and clothing. Starting 2015 with some great deals on the latest firearms and accessories, the Sportsman Gun Centre's friendly and helpful staff will be on hand to serve loyal patrons and welcome new faces while looking forward to a prosperous 2015. Why not drop in to their Dorset store and see the fantastic deals they are offering in 2015?
Opening Times
Tuesday - Saturday: 9am - 5.30pm
Sunday: 9.00am - 4pm Monday: Closed
Sportsman Gun Centre, Southern Counties, Shooting Ground, Wardon Hill, Dorset, DT2 9PW
Tel: 01935 83099
News